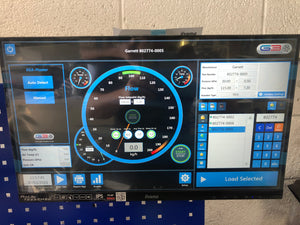 VNT flow bench setting
Regular price £45.00 Sale
Turbocharger VNT flow setting / Stop screw setting.
The final stage in a successful rebuild is to calibrate the minimum vane opening setting, and this can only be done on the correct flow bench.

Your supplied turbo needs to be clean and in as new / reconditioned condition so not to contaminate our 2021 G3 Concepts flow bench. If your turbo is oily, sooty or rusty please send it in for overhaul, not just flow set, and if it is a welded VKLR unit please see This Page.
You can specify a kg/hr value you or your mapper require for the flow set, or we can do it to the OEM value. It is important to use the right value for the minimum vane setting so please consult your mapper or contact us if unsure. 
Please print and fill in This Form, and include the bottom half with the turbo. The top half can be used as an address label for the box. Please make sure to plug up the oil/water and boost/exhaust ports of your turbo to stop contamination getting inside. When packing your box you must be sure to support the turbo completely so it can not rattle around and get damaged in transit. 
It is important to note that a flow set is not a cure all to a turbo that is not working properly. We do not strip the turbos or inspect them during this process. It is assumed that all the mechanisms are in an as new perfect working condition, and we do not offer a guarantee that flow setting calibration will always cure the problem. Finally, electronic > vacuum actuator conversions that are performed poorly can render the turbo unable to be successfully flow set.